Oversized inflatable plastic eels dangle from the ceiling of a supermarket in Tokyo as late afternoon shoppers inspect the real thing – beautifully packaged and prominently displayed – on the shelves below.
In specialist restaurants run by generations of the same families, diners eat sweetened broiled eel, which is thought to take the edge off the heat and humidity of a Japanese summer.
These annual rites are performed in honour of a dish that has been part of the culinary landscape for centuries. But Japan's appetite for Anguilla japonica – Japanese freshwater eel – has come at a price.
Eel stocks are a fraction of what they were in the 1960s, and conservationists say continued overconsumption could condemn the animal to the same fate as the Pacific bluefin tuna.
The environment ministry designated the Japanese eel as an endangered species in 2013. The following year, the International Union of Conservation of Nature added it to its red list of threatened species, blaming overconsumption and environmental damage to the rivers and coastal areas where they spawn and grow.
The plight of the eel has come into sharper focus as Japan prepares to mark the Day of the Ox in the lunar calendar – two days that this year fall on 20 July and 1 August – traditionally considered the hottest days of the year.
Overfishing of juvenile glass eels, which are transferred to farm ponds where they are fed until they reach maturity, has led to record price rises, forcing restaurants to post notices apologising to customers for charging them significantly more each year for a simple kabayaki.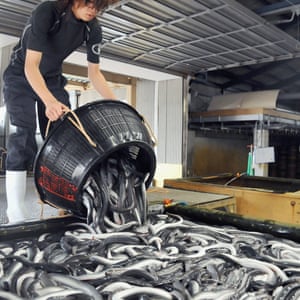 The market price for adult eels rose to a record ¥5,300 (£36) a kg in March, about one and a half times higher than last year, according to the Union of Eel Farmers Cooperatives of Japan.
Japan, which consumes an estimated 70% of the world's freshwater eel catch, transferred just 14 tons of larvae into farming ponds this season – almost a third less than last year – owing to poor catches.
The decline in stocks has been accelerated by illegal fishing, according to Kenzo Kaifu, a professor at Chuo University in Tokyo and an expert on eel conservation.
In a commentary for the Yomiuri Shimbun newspaper, Kaifu noted that up to 63% of the eel catch in Japanese domestic waters in 2015 was traded illegally, either by unlicensed fishermen or those who had exceeded their quota.
The Day of the Ox, Kaifu said, "might be the perfect opportunity to think a little more deeply about the eel problem we're facing, and make it a topic of conversation".
On those and other sweltering days throughout the midsummer, people are drawn to skewered fillets of eel that are dipped in a soy-based sweet sauce, cooked slowly over charcoal and served on rice.
The dish, which is rich in vitamins, is eaten to provide a much-needed energy boost at the height of summer; some believe the smoke from an eel cooking on the grill gives an immediate pick-me-up.
Last month, Japan, South Korea and Taiwan agreed to leave the upper limit on catches of juvenile eels unchanged, to the dismay of conservation groups. China, which has the biggest single annual quota of 36 tons, much of which it exports to Japan, routinely shuns multinational efforts to restrict catches.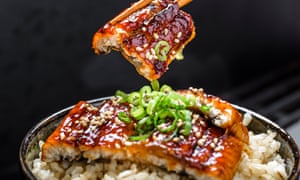 Parties to the Convention on International Trade in Endangered Species of Wild Fauna and Flora are expected to discuss the increasingly precarious future of the freshwater eel at a meeting next May.
Some retailers are already taking action. The supermarket chain Aeon said it would stop procuring Japanese eels whose origin and journey through the supply chain was not properly documented. Instead it will switch to short-fin eels, a cheaper variety commonly found in Indonesia, according to the Asahi Shimbun newspaper.
Some eel farmers are fattening their stocks so a single fish produces enough meat for two dishes, despite concerns that the bigger bones, which are usually barely perceptible, will put off some diners.
Despite advances in farming methods, it is still not possible to raise eels from birth to maturity. Fisheries have to catch juvenile eels in the wild before transferring them to farm ponds.
Campaigners are calling on consumers to resist the urge to eat Japanese eels this summer and throughout the year.
"Even though there is a severe shortage, Japan, Taiwan, Korea have together decided not to reduce the catch quota next season," said Kazue Komatsubara, oceans campaigner at Greenpeace Japan.
"The fishery agency said there was no scientific evidence to support a reduction in catches. But Japan could reduce its catch quota by itself to help the eel population recover. It has to take responsibility as the biggest market for the Japanese eel.
"The only way to avoid supporting illegal fishing and to be a responsible consumer who supports sustainable fishing is to stop buying eels."